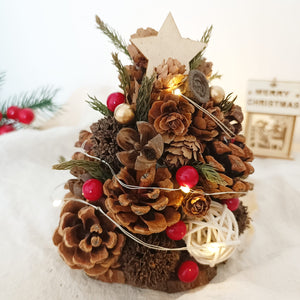 DIY Mini Pine Cone Christmas Tree
Regular price $65.00 $50.00 Sale
Do up an adorable mini pine cone Christmas tree with us this Christmas! 

Our DIY kit comes with everything you need to do up your very own super cute mini tree - a step-by-step instructional video, instructional sheet, and an option to get all the materials and tools delivered to you, for you to create your very own mini tree in the comfort of your own home.
The mini pine cone Christmas tree measures approximately 15cm when completed and includes fairy lights for that magical touch! 
All kits come with floral wires, glue and an online video workshop via QR code accessible anytime for straight out of the box festive fun! 
(Do note that you will need a pair of sharp scissors for cutting the wires!)